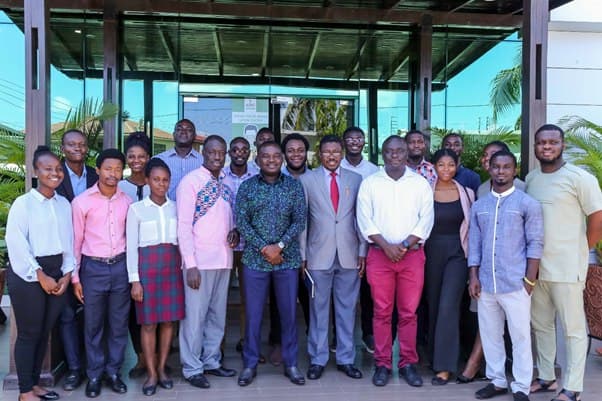 Indigenous entrepreneur and philanthropist Ernest Akwasi Appiah has advised student entrepreneurs to be persistent with their ideas to achieve entrepreneurial success.
The Managing Director of the Agricultural Manufacturing Group (AMG) noted that the entrepreneurial journey was a lonely and difficult one.
He said if young people persisted over time, they would be rewarded through the value that their ideas create.
He made this known when a team of student entrepreneurs and leaders of the University of Ghana Business School (UGBS) paid a courtesy call on him for funding the establishment of the UGBS Innovation Hub (UGBS NEST) with GH₵520,000 in 2020.
The Establishment of UGBS NEST
In early 2020, the coordinator of the UGBS NEST approached the alumnus of the university to provide support towards the establishment of an entrepreneurial hub.
The UGBS Innovation and Incubation Hub (UGBS NEST) is an innovation centre that nurtures student entrepreneurs, their innovation and incubates them at the hub till breakout.
The first cohort of incubates comprising of five entrepreneurial teams were admitted into the hub in July 2021. These teams are undergoing mentorship, training and preparations for several international and local entrepreneurial pitches to refine their concepts and source for funding.
Further support
On October 28, 2021, a team from the UGBS paid a courtesy call on Mr Appiah.
The UGBS delegation included Professor Justice Bawole, Dean of the UGBS; Mr. Emmanuel Poku-Sarkodie, School Administrator; Professor Bedman Narteh, Head of Marketing and Entrepreneurship; Dr. George Acheampong, Coordinator of the Innovation Hub; Mrs. Mammie Hutchful-Nortey, ORID Liaison for the hub, and the incubatees.
Mr. Appiah, at the meeting and after the five teams had presented their innovations and businesses to him, presented the teams with a cheque amount of GH₵100,000 as seed fund to support their business activities.